I met Mitchell five years ago in Savannah. We bought a pack of red napkins from Goodwill that said "feel free to pass the potatoes" and looked through vintage video games at Planet Fun. Now, a few promotions and one marriage later, he's about to set out in a refurbished van he calls "The Bearded Bison" with his newlywed wife Chelsie and two pups, Maverick and Stella.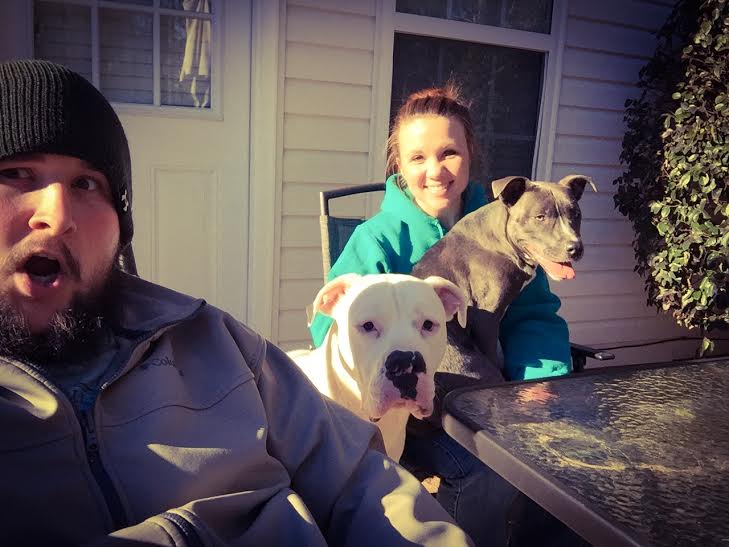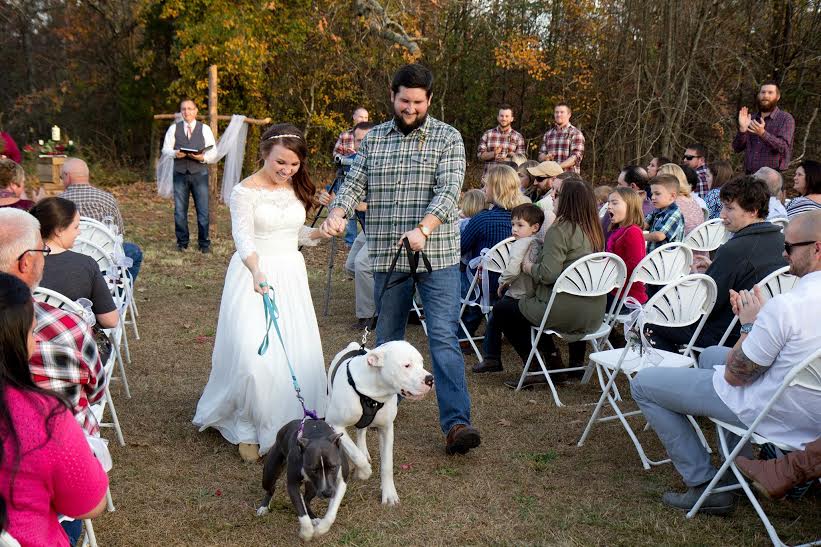 "I started working for my company in February, 2011 as an assistant manager," Mitchell says. "I bought my first house a year later and Chelsie moved in while she was still in college. A couple of years later, I got promoted to run my own office, so we sold the house and moved an hour-and-a-half away from everything and everyone we knew. It was by far the second best decision we've ever made — next to living in a van."
As far as what got their wanderlust pumping, Mitchell explains, "I've always loved traveling and camping. I've done it my whole life, but after Chelsie graduated and got a real job, we both got lost in the hustle and bustle of everyday life. I found some stuff online about "van life," and it seemed perfect. We bought a van, and I turned it into our home. It was a blank canvas. Now it's an amazing piece of art. It's going to root us back down and show us the sight we lost for life."
According to Chelsie, "I really want to learn how to live with just what's necessary. The idea of making memories and gaining awesome experiences is far more gratifying than having materialistic things."
The name The Bearded Bison comes from a thought Mitchell had while standing in the driveway after buying the van. "I just randomly said, 'The Bearded Bison!' and it stuck."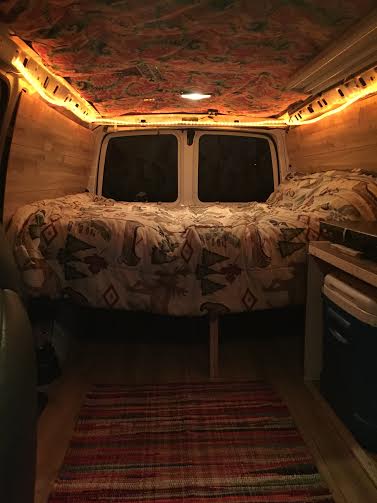 "It was Mitchell's idea," Chelsie says. "I was very hesitant at first because I thought it was a little crazy. I didn't think it was possible. But I thought about it for a while and realized it was actually an amazing idea. I just had to open my mind and change my way of thinking."
When asked about an average day working on the van, Mitchell says it involves a lot of sweating, sweet tea, and spontaneity. While he builds up The Bearded Bison, Chelsie watches after the dogs: Maverick, a white boxer they raised from eight weeks old and Stella, a pocket pit they rescued from an animal shelter.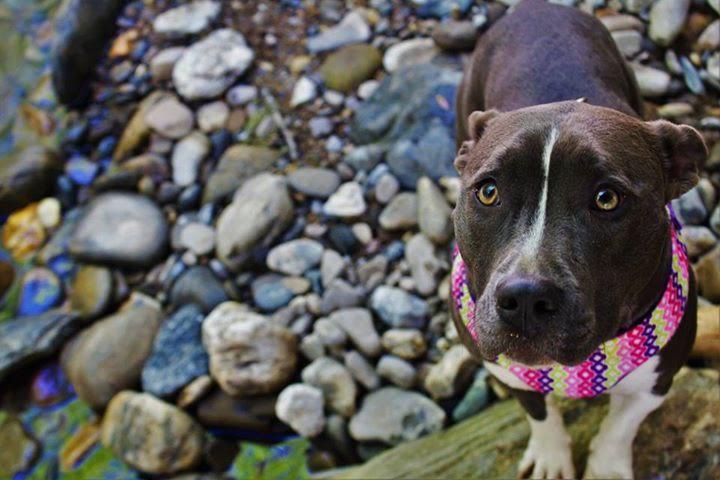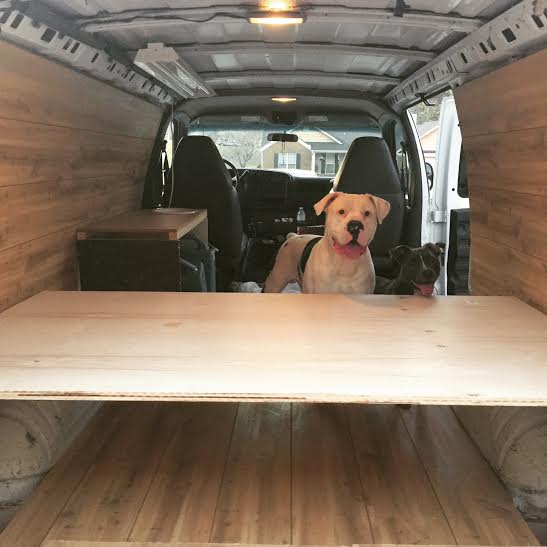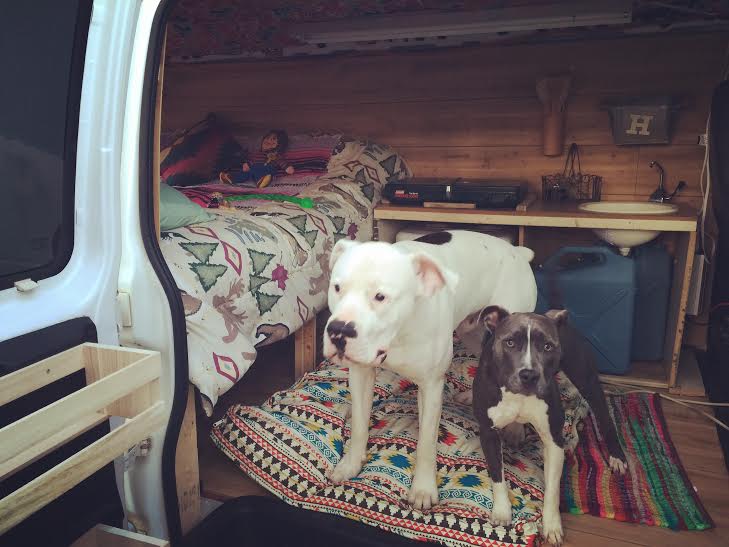 The Bearded Bison is set to begin its journey in Miami before heading to California, going north, and then to the Midwest. "Most likely, we'll end up settling down somewhere in the Rocky Mountains because they stole our hearts when we were there," says Chelsie.
According to Mitchell, "I don't want to have an itinerary or time frame. That's what this whole thing is about — to slow down and enjoy life. We weren't meant for desk jobs like we have now. I hope we reach people through our journey. Maybe this will open up someone to do something similar or for others to realize life is flying by, to calm down, to appreciate the small things, and to not take life so seriously."
"I hope to gain discipline from learning how to be without things I might want but don't necessarily need," Chelsie says. "I want some crazy stories to tell people for the rest of my life."
But for the couple who married in December, 2015, it wasn't the easiest decision to give it all up for The Bearded Bison. "The most difficult part of this whole process is quitting our steady income jobs and selling everything," Mitchell says. "Taking that leap is insanely nerve wracking. When you sit back and think about how you've been with your company for over five years and you're only 24, the thought of impacting the people you work for is heartwarming. But knowing you're not completely happy doing it and knowing you're called to do something different is even more important to think about."
"My husband and my dogs are my life," Chelsie explains. "I know there are going to be some really tough times being in such a small space. But no matter how hard things may get, we'll take breathers and get through it because there's no one else I'd rather share this journey with."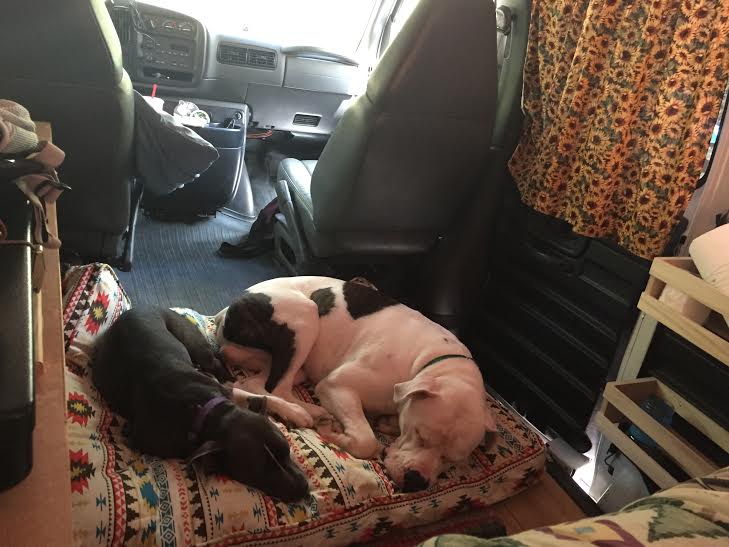 "My advice would be to just do it," she says. "Don't think or worry about things too much. Everything you sell or give up, you can always get back. But the memories and experiences you gain will only happen once and will be worth so much more."
"Just do it," Mitchell encourages anyone thinking of pursuing this lifestyle. "Weigh your options. What makes sense? What works best for you? Are you happy with where you are? What if you could see the country with the one you love the most and your pups? Everything you own now is replaceable. Get outside. Explore. Love life and live it — that's what it's intended for. Time isn't going to slow down for you, so you might as well slow down yourself and take it all in."