Lake Shasta is nothing short of a Californian oasis. Less than 4 hours from San Francisco gets you miles of hill-framed water, sunrises and sunsets clear for take-off and landing, and an abundance of nothing to do but float. And between this high-priority list of things to do lies the night, and it is best of all.
This spiral-shaped, man-made lake offers you something else that's spiral-shaped but not at all man-made: the Milky Way. And for a Californian, the Milky Way is a rare visitor. She tends to get shrouded behind the proof that we exist -- the exhaust, the smog, the not-yet-updated mercury vapor lamps drowning the cities in a mild glow. We all know the drill. But here, we're reminded to look up. Rewarded for it, too. The relentlessly cloudless nights offer quite the sparkly view.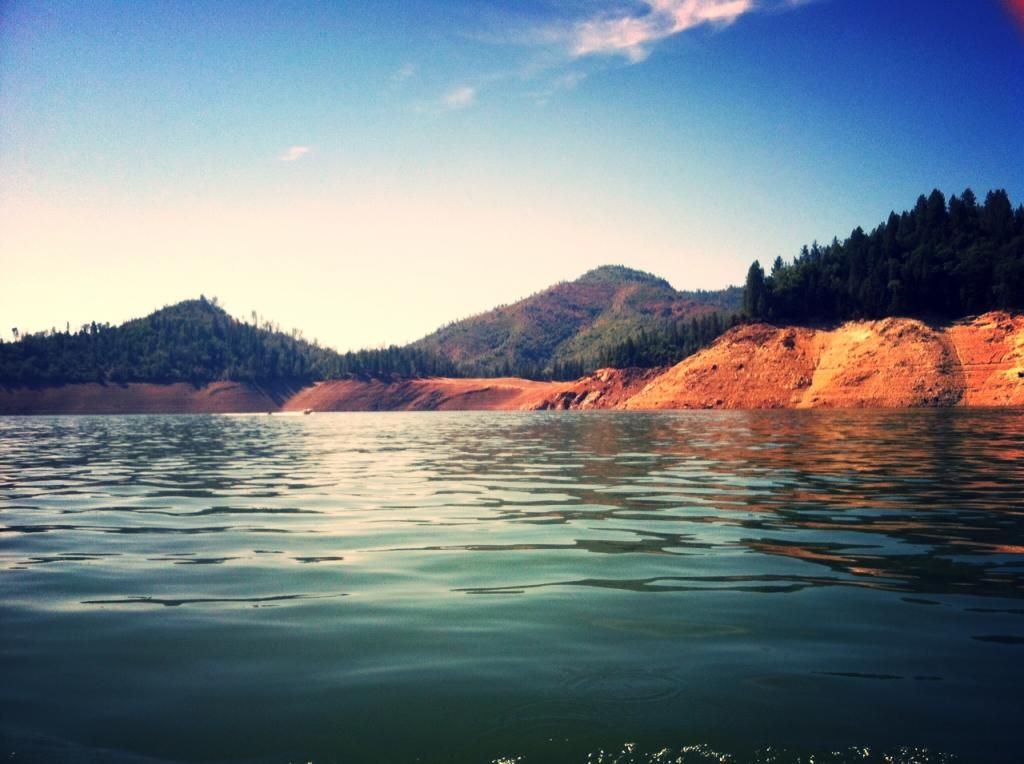 I just wish someone had told me to look down. Turns out the lake is disappearing at a staggering 8 inches per day. Though the above photo hardly does it justice (keep in mind how tiny those trees look), you can see where the water once claimed its territory. Lake Shasta won't always be respite for city-dwellers, a star-gazer's utopia, or the perfect backdrop to a Mai Tai.
But the thing is, it's not supposed to be. Beneath Shasta lies a handful of old mining towns: Elmore, Etter, Morley, Pitt, Winthrop, Baird, Copper City, and Kennett. At one point, Kennett was a proud home to 10,000 inhabitants and even had an opera house. In 1935, a dam was created, forming Shasta Lake, and in turn inundating these unsuspecting towns with 400 feet of water. And while the numbers were certainly dwindling, there were still people that lived there. It's purported that some citizens stayed until the waters hit their homes, departing at the 11th hour as the nose of their little Titanic took its final breath, their feet sopping wet.
Of course, it used to be 400 feet of water. That number is dropping steadily. While some mines have always been above the water level (and buried amongst the flora of the region), rumor has it that more and more signs are becoming visible of this Atlantis-esque ghost town. Many of the region's smelters, paint factories, mines and their despoiled soils were left intact when flooded. Mining tunnels are perhaps but a few weeks from emerging entirely. If the drought in California continues, high-priced lake resorts could turn into 2nd-generation ghost towns.
All of this makes you wonder if the inhabitants of Kennett and the nearby smaller copper towns could have ever fathomed new-age millennials wakeboarding on top of their elementary school (which, yes, is down there). You wonder if the new-age millennials think about the fugacity of not only their vacation, but their vacation spot. How often do you go to a place and get to think about what it once was for someone else? And for tens of thousands of people, Lake Shasta was once home. No Mai Tais, no big city oasis, just home.